AWiM22 : United in Action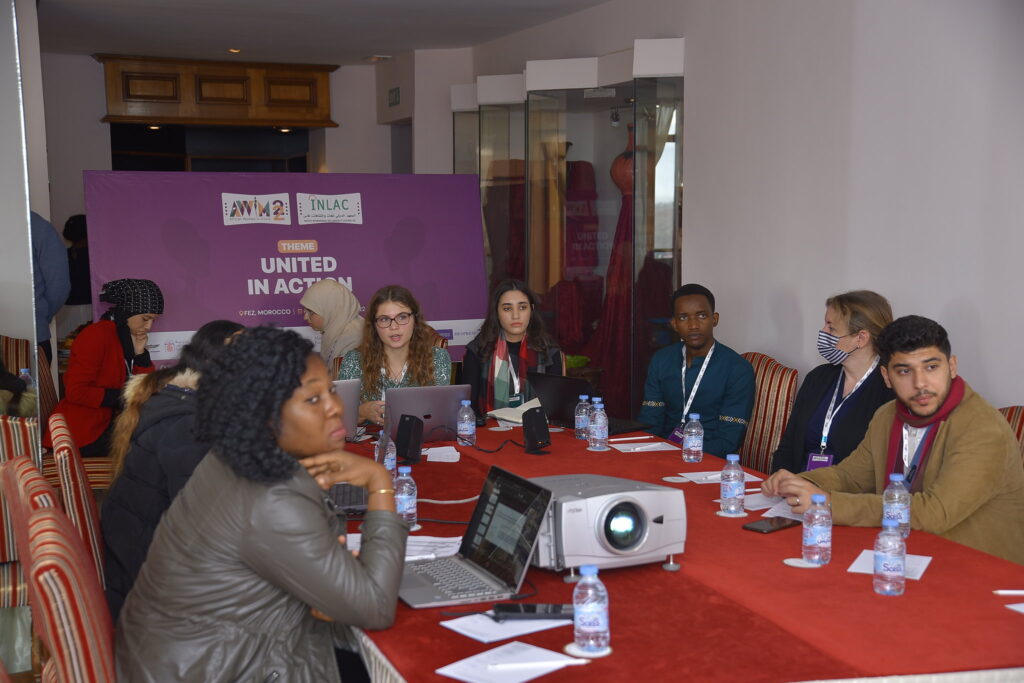 Partners: International Institute for Languages and Cultures, Fès, Morocco (INLAC), African Union, Fojo Media Institute, Civicus, Luminate Group, UNESCO, MacArthur Foundation, WAN-IFRA Women in News, Africa-China Reporting Programme
Keynote: Dr Amina Lemrini
MC: Soundous Mers
African Women in Media's (AWiM) sixth conference (#AWiM2022), was our first ever hybrid event that brought together academia, industry experts, civil society and policy actors. The objective was to share insights and best practices on the intersection of gender equality and media development in Africa. The conference, which took place on 8-9 December 2022 in Fez, Morocco, featured over 90 speakers, 16 panels and three workshops all engaging in various topics.
Themed "United in Action,"' discussions were wide-ranging across three sub-themes: Gender Equality in and through Media; Collective Action and Representation; and Media Business and Global Challenges. 'United in Action' refers to the coming together of all stakeholders in gender equality, our shared experiences, and unity among media practitioners, academics, policy actors and civil society towards gender equality in the newsroom and in media content. Therefore, the AWiM2022 conference was guided by an ethos of shared best practices and collaborative action to impact positively the way media functions in relation to African women. What follows, then, is a collation of thematic recommendations from the
discussions, distilled into their most actionable form that each of us, as the collective media fraternity, can apply in and within our structures and praxis.
These discussions were by no means exhaustive but included, academic, civic, organisational and even personal perspectives spread out across panels that focused on; Media Entrepreneurship, Women in Politics, the Promises and Perils of Digital Technologies and Online and offline Safety and Harassment of Women.
The ensuing presentations, questions and discussions revealed that women's lived experiences amid increasing global challenges were dire. Each one highlighted how women bear the brunt of climate change, conflict and gender-based violence. Further, they each revealed that the media had a significant role in contextualising narratives in the Global South by telling gendered perspectives of climate change, amplifying women's roles and voices in regional peace, and extensively covering gender-based violence to bring to light the pervasiveness of these issues. To move to action, the panel agreed that media organisations should not only join the fight for climate justice but should mainstream gender-responsive policies that protect women as subjects and objects of the news.
Gender inequality, as has been extensively reported, is aided by many social factors, including a wide gap in income between men and women. The conference discussions would, therefore, not be complete without deconstructing and understanding the global challenge of media business entrepreneurship, including media financing. Practical actions that can meet this challenge, as offered by the panellists, include constant innovation within media organisations to meet the demands of a fast-paced and constantly evolving digital landscape. Collective action through partnerships that can potentially increase revenue within media organisations, structures and frameworks that protect women from sexual harassment and other forms of discrimination and violence in the workplace were also called for. Similarly, continuous training of journalists to reskill and upskill their reporting and, finally, policies that ensure women can take up leadership positions within the organisations.


The main goal of the AWiM22 conference was to create solutions that might guide media organisations, media practitioners, academics, civil society organisations and media partners and allies in their work towards equitability in and out of the media. We know that these actionable actions can serve as great agents for change when adapted and applied accordingly.