AWiM20: Reimagining Futures: Women in Media, Peace & Technologies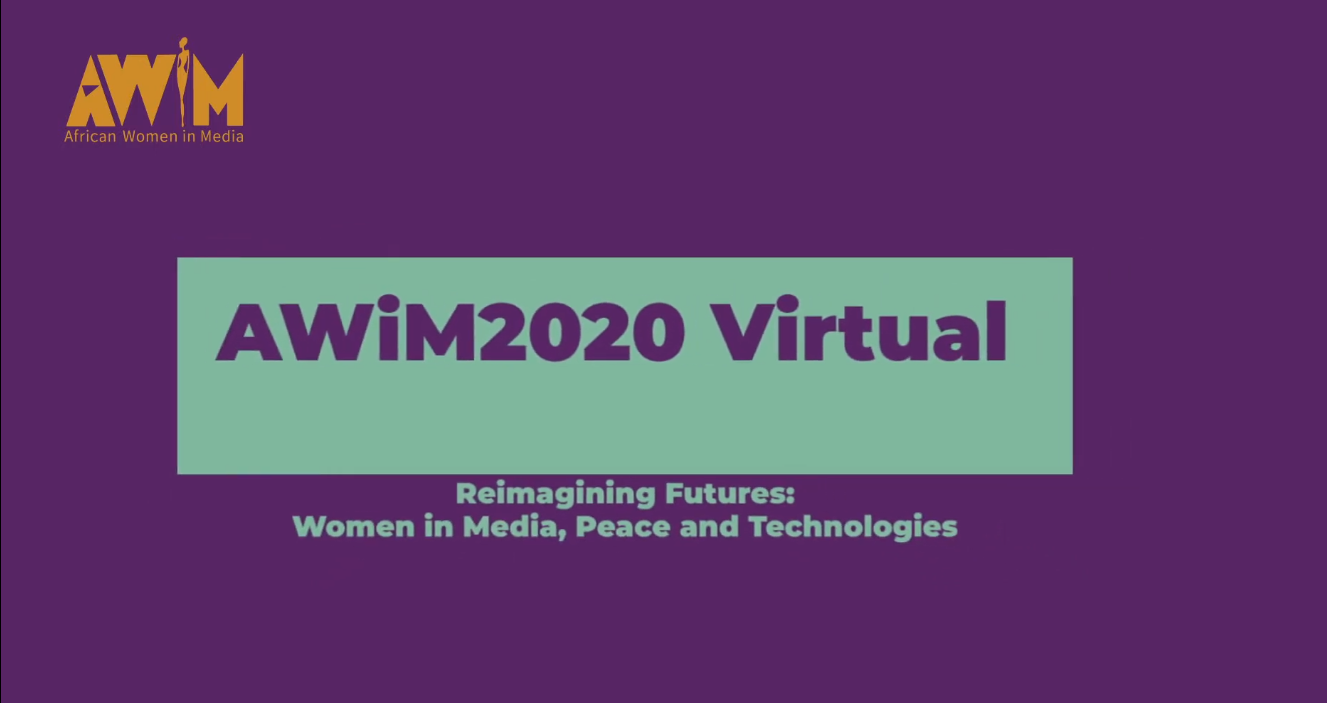 Partners: African Union (AU), International Labour Organisation (ILO), International Organisation for Migration (IOM), Delegation of the European Union to the African Union, Fojo Media Institute, WAN-IFRA Women in News and Joint Labour Migration Programme
MC: Tariro Chikumbirikie
AWiM2020 Virtual was our fourth conference, and we were honoured to have the African Union as our title partner, addressing critical continental issues. The European Union also lent their support to our Pitch Zone and Awards, spanning five categories. In collaboration with WAN-IFRA Women in News, delegates were provided the opportunity to participate in a live event focused on pitching. In 2020, we proudly introduced the Labour Migration Reporting Awards in partnership with the International Organisation for Migration, International Labour Organisation, and the African Union, as part of the Joint Labour Migration Programme. Thanks to the assistance of the Fojo Media Institute, registered attendees received daily, in-depth newsletters highlighting the key themes of AWiM2020.

Under the theme "Reimagining Futures: Women in Media, Peace, and Technologies," AWiM2020 Virtual unfolded on a dedicated website. This virtual conference blended pre-recorded presentations with a one-day live event, delivering a fresh perspective on the media industry's innovations. It aligned with the evolving global narrative of Africa, particularly in light of the continent's ambitions to attain a dominant global position and address pressing issues such as "Silencing the Guns by 2020," free movement of people, and the African Continental Free Trade Area (AfCFTA). The conference explored subjects related to migration, immigration, peace, security, and the unique experiences, roles, and insights of women in media professionals and researchers. Additionally, a special segment was dedicated to the impact of COVID-19 and the contributions of African women journalists, shedding light on the lessons learned.
In essence, AWiM2020 Virtual played a pivotal role in advancing agendas both on the African continent and globally, aligning with:
The African Union Commission's Agenda 2063 Aspiration 4, striving for a "peaceful and secure Africa," and Aspiration 6, with a specific goal of "an Africa whose development is people-driven, relying on the potential of African people, especially its women and youth, and caring for children."
The United Nations' Agenda 2030 Sustainable Development Goal 5, with a focus on enhancing representation. Notably, SDG 5 reported a 1% global growth in the representation of women in managerial positions from 26% in 2015 to 27% in 2018, with this increase observed across all regions except the least developed countries.